Textbooks and Updates

Simulation Using ProModel 4th Edition -
Preliminary Edition Now Available
Publication Announcement: The preliminary version of the fourth edition of Simulation Using ProModel by Biman Ghosh, Royce Bowden, Bruce Gladwin, and Charles Harrell will be published by Cognella Academic Publishing is now available for course use in Fall 2021. The final version will be available in January 2022.
Those interested in adopting the text can reach out to the Cognella adoptions team at adopt@cognella.com or 800-200-3908 x503 to place an order with the following details:
Title: Simulation Using ProModel
Authors: Biman Ghosh, Royce Bowden, Bruce Gladwin, Charles Harrell
Edition: Preliminary
ISBN: 978-1-7935-1977-1
Term: Fall 2021
When the book is adopted, a posting is created in the Cognella student store specific to that instructor's course, and the instructor will receive that link.
Some of the changes of this new edition:
Model examples in Lab 4, 6, 13, and 14 are all new.
New Chapter 11 (Design of Simulation Experiments) , and Lab Chapter 11 (Simulation Analysis of Designed Experiments using ProModel) added.
14 theory chapters and 14 lab chapters in total.
Case Studies in Chapter 1 changed.
A material on Validation added in Chapter 7.
A section on Validation and a Case Study added in Lab 7 and Lab 9..
All screen shots are compatible with the latest version of ProModel.
New in Version 4:
PowerPoints for all theory chapters
Multiple choice and T/F questions for all theory chapters
Solution models for all the exercises
View a webinar that previews the upcoming release of the Simulation Using ProModel, 4th Edition.
Download Video: "ProModel-Using-Simulation-Textbook-Edition-4-Preview-Webinar.mp4"
If you would like to be a peer reviewer, please contact one of the authors, Biman Ghosh, at bkghosh@cpp.edu.
---
Textbooks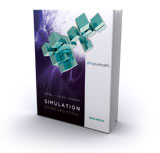 Simulation Using ProModel,
Third Edition
ISBN 978-0-07-340130-0
Simulation Using ProModel covers the art and science of simulation in general and the use of ProModel simulation software in particular. The text blends theory with practice. Actual applications in business, services and manufacturing and a hands-on approach to simulation, including real-world simulation projects, are emphasized.

Available through
Amazon
---

Updates
Missing Lab 4 Models
These files are missing from the student CD. These are needed for the Simulation Using ProModel textbook. You may download them below:
SimRunner 3.0 Student Update - Download the latest update for SimRunner.