What's New
What's New in Process Simulator 2016 SP1?
In-Process Resource Utilization Statistics
Access the utilization of your resources at any time during simulation. Using the newly modified PercentUtil() function, you can find out the utilization of individual units of a resource or a summary of all units of a given resource type. This allows you to make dynamic logical decisions or write out custom statistics to an Excel file.
Utilization for a specific resource unit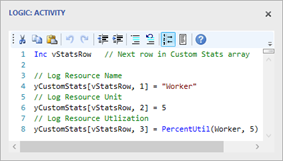 Utilization for all units of a resource type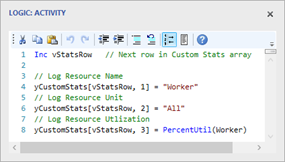 Identify Captured Resource Units
In addition to determining which resource you've captured, you can now find out the specific unit of that resource as well. With the new OwnedResourceUnit() function, you can get the unit number of any resource owned by an entity. This is useful when collecting custom resource statistics at the individual unit level.
Initialize Routing Percentages from External Data
Percentage-based routes now have the flexibility to be initialized by external data stored in Excel using Arrays. This gives you the ability to fine-tune your model or do what-if analysis in Excel without the need to change the model. Utilize this capability previously only available through Macros and the Scenario Manager, by simply entering the Array in place of the percentage value in Routing properties.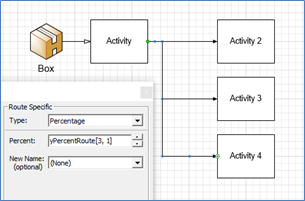 Programmatic Export of Statistics
The statistical results of your simulation runs can be programmatically accessed through a new API to Output Viewer. You can get the raw data, down to the individual replication, or have it summarized or grouped (just like in Output Viewer) prior to accessing it. Either way, you can access your results, for example to load into Excel or a database, for analysis outside of Output Viewer.
As an example, this is a Time Plot in Output Viewer where the time series data is averaged over a custom period of 15 minute intervals.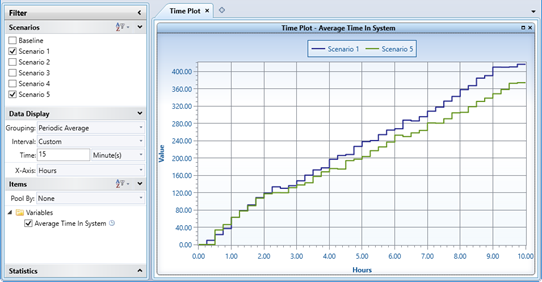 Using the new API, you can have Output Viewer summarize the data into 15 minute intervals prior to exporting it to Excel.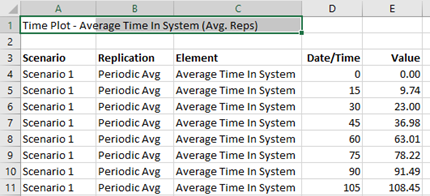 The exported format makes it easy to create a Pivot table and Pivot chart in Excel.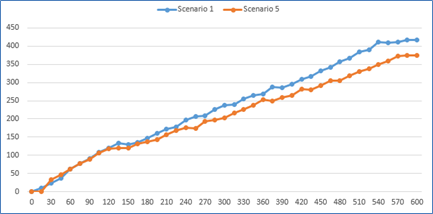 Enhancements
When exporting Array data at the end of simulation, the replication number is no longer written out in the Excel Sheet name if "Export after final replication only" is checked.
Minitab version 17.3 is now supported.
---
What's New in Process Simulator 2016?
Stat::Fit
Process Simulator now comes with Stat::Fit, which is a comprehensive yet user-friendly curve fitting program. Stat::Fit takes raw data from spreadsheets, text files, or manual input and converts that data into the appropriate analytical distribution for input into Process Simulator. It automatically fits continuous distributions, compares distribution types, and provides an absolute measure of each distribution's acceptability.


Supports Microsoft EMET (Enhanced Mitigation Experience Toolkit)
Process Simulator is compatible with EMET, which is a utility designed by Microsoft to help IT Professionals protect systems from common threats. EMET works by applying security mitigation technologies to arbitrary applications to block against exploitation through common attack vectors.
---
What's New in Process Simulator 2014 SP4?
This release supports Windows 10, Office 2016 (32-bit) and Visio 2016 (32-bit).
---
What's New in Process Simulator 2014 SP1?
In this Service Pack, we're not only including fixes but new features for the Professional edition of Process Simulator 2014. Free Form logic in the Professional edition gets even more power and simplicity with the introduction of Intellisense and Syntax Guide.
(New in Professional edition)
Intellisense
Free Form logic now has an intelligent list of all logic elements that pops up as you define your logic so you can quickly write it. Awesome, right? ☺ This list of elements appears as you type and includes all the statements, functions, activities, entities, resources, variables, attributes, arrays, distributions, etc…basically everything you need to write logic. And the beautiful thing is, you don't have to remember exact names. As you start typing, the list filters to any element containing those characters and highlights the element name that begins with the characters you typed. If the highlighted element is the one you want, select tab, space, or enter and that name will be committed to your logic. Fast and easy!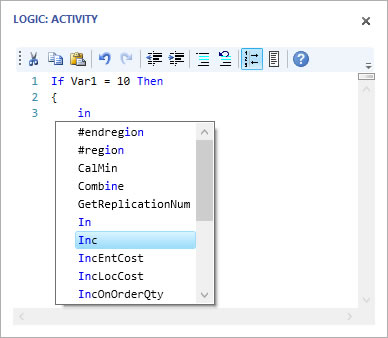 Syntax Guide
After a statement or function is added to your Free Form logic, a tooltip will appear displaying the syntax for the statement or function with all its possible options. No need to remember what is required or take time to look it up in Help; the Syntax Guide will appear and show you. This saves you time and keeps you focused on completing your logic.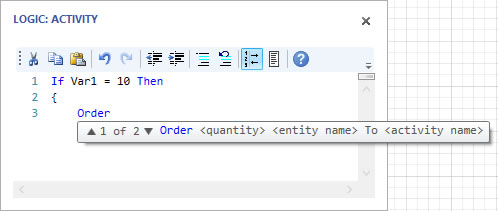 Statements Pane
Can't remember what the possible statements are when writing logic? We've got you covered. Free Form logic now has a Statements Pane you can toggle on and off to show you all the possibilities. Hover over a statement listed in the pane and a quick help tooltip appears describing the statement. Double-click on a statement and it will be added to your logic. Yeah, it's that easy.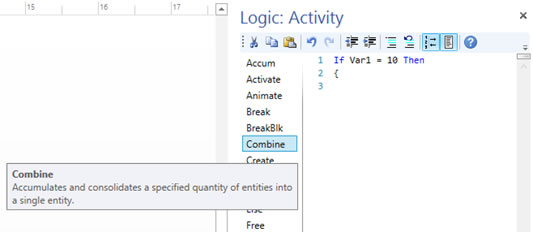 Flexible Routing
Route to any activity with a single routing connection! Each entity that enters an activity can specify a unique destination it will route to. Simply store an activity's index number in an entity attribute, array or variable and, as the entity leaves, it will route to the destination specified.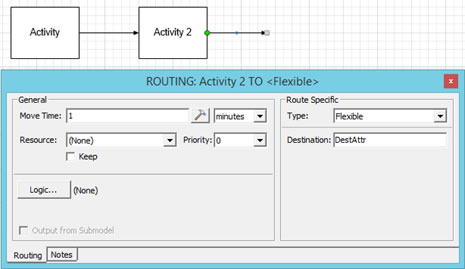 User Distributions
Occasionally, none of the built-in distributions in Process Simulator can adequately represent a data set. In such cases, the user may define a User Distribution to represent this empirically established data set.

Initialization/Termination Logic
Execute logic at the beginning or end of a simulation to do things such as initializing arrays and activating subroutines or finalizing calculations for custom reports. This logic is accessed from the Simulation Properties window.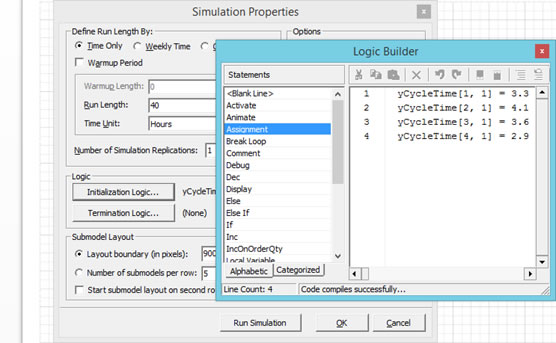 Statements and Functions
Activate and Animate statements are now available in the Logic Builder, in addition to the Calendar functions introduced in the original release of the Professional edition.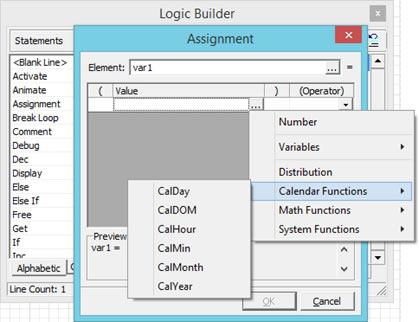 (New in all editions)
Getting Started Panel
With the new Getting Started panel, you have immediate access to demo models, a quick start video, training resources, online help, the ProModel Support team, and a whole host of How To videos. It's easy to find since it will be the first thing you see when you start up the application.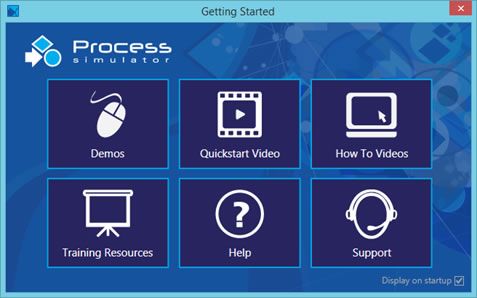 ---
What's New in Process Simulator Professional 2014
The Professional edition of Process Simulator 2014 is a new edition for advanced users of Process Simulator. Process Simulator Professional provides you with the power, flexibility, and freedom to rapidly build highly effective models so you can make better decisions, faster.
Power
Arrays
Arrays allow you to store large amounts of data in a single data structure for your model to access and use during simulation. They are used just like variables but rather than defining a variable for every data value you want to keep track of (which could be hundreds of variables), you define a single array to hold hundreds of data values. See our how to video on Arrays .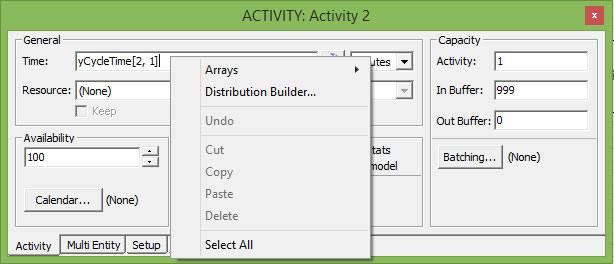 Import/Export Data via Excel
The quickest and most convenient way to populate your Arrays with data values is by importing data from Excel . Not only does it make it easy, but because most people use Excel it makes it simple to manage and modify the data directly in Excel. If you manipulate the array values during simulation, then you may want to export the data to Excel for data validation and analysis after simulation.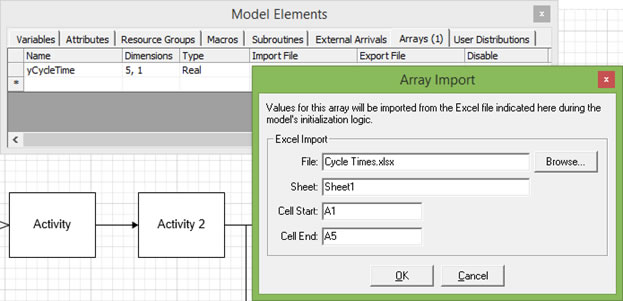 User Distributions
Occasionally, none of the built-in distributions in Process Simulator can adequately represent a data set. In such cases, the user may define a User Distribution to represent this empirically established data set.

Flexibility
Advanced Subroutines
We have extended our subroutine capability in the Professional edition to allow the passing of parameters and the return of calculated values. This enables the leveraging of arrays and execution of parallel process activities.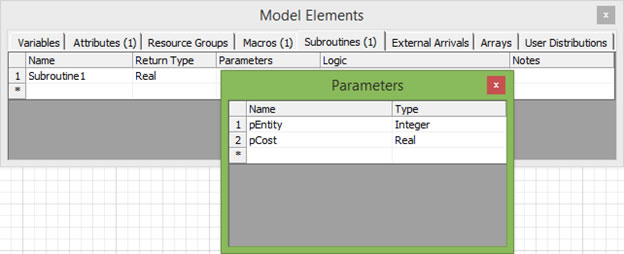 Complex Expressions
In Professional, you can get complex expressions in property fields by calling a subroutine (where complex calculations and logic can be executed) and returning a single value to the property.
Initialization/Termination Logic
Execute logic at the beginning or end of a simulation to do things such as initializing arrays and activating subroutines or finalizing calculations for custom reports. This logic is accessed from the Simulation Properties window.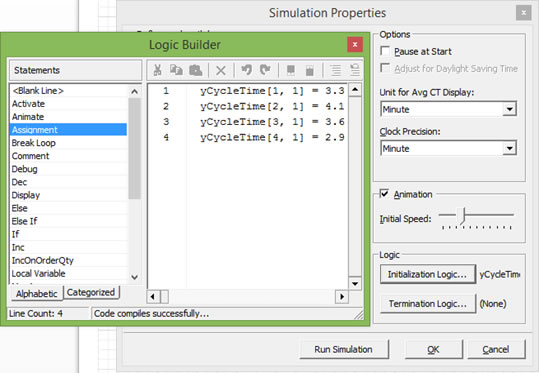 Freedom
Free Form Logic
When you're ready to go beyond the guided, dialog-building method of logic creation, then you'll love the freedom and flexibility that Free Form logic gives you. Not only can you simply type your logic freely, but the Free Form logic window can remain open as you click from one activity to another. This window doesn't have the same restriction as the Builder logic window.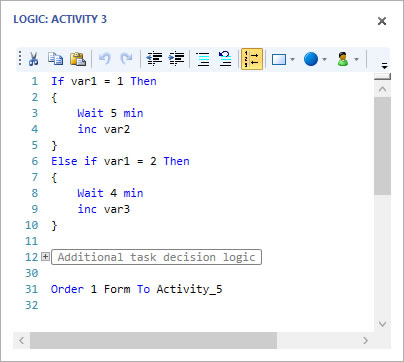 Solution and How To Videos
We have organized and brought together all the Solution and How To videos our Support team has created on YouTube into one convenient location.
Check them out !
---
What's New in Process Simulator 2014 (Fall 2013)
Visio 2013 Integration
Process Simulator now integrates with Visio 2013 (32-bit). A few of the new features introduced by Visio 2013 that Process Simulator supports are:
Change Shape- this new capability in Visio allows you to replace any shape already in your diagrams. You no longer need to disconnect the connections, delete the shape, add a new shape, and then reconnect the connections (besides the fact you lose all your simulation properties). Simply select the shape you want to change and then select a new shape from the Change Shape drop down in the Ribbon. All of your simulation properties (duration, shift, logic, etc.) for that shape will be automatically transferred to the new shape.
Office File Format - Visio also implemented the Office compressed file format standard (VSDX). This keeps your files small in size and allows for version history tracking when stored in SharePoint. Process Simulator supports this new format as well as the old VDX and VSD formats.
Percentage Routes in Scenarios
Want to quickly see the impact of changing the percentages at a decision based routing in your process? Simply add the percentage routes as a parameter in Scenario Manger, change their values, and simulate the new scenario. It's that easy.


Attach by Attribute and Time Limit
We've added several new capabilities to the Attach route to make your modeling of assembly, loading, and joining activities easier:
Attach by Attribute Value- reduce your attach connections and entity types by attaching entities based upon their attribute values.
Attach with Time Limit- specify how much time to give the attaching entities before the base entity takes whatever it has and moves on.
Attach Before/After Activity – decide whether the attach action occurs before the base entity has executed its logic or after.
Batch by Attribute
For a Buffer activity, batch your entities based upon the attribute value of each entity. This helps reduce the number of entities defined in your model. For example, if you have a process that has many different parts with unique part numbers and need to batch them for processing. Assign the part number to an attribute and batch by attribute value. One entity, one attribute, very simple.


Default Activity and Move Times
When adding new activities or routing connections to your diagram, they are given default duration and move times. These default times can now be changed to values you prefer for your models. Don't want to have a default move time? Set the default time to be blank. These defaults also apply when converting pre-existing diagrams to simulation models.


<Activity Time> Statement
We've included this new control statement to Activity Logic, which allows you to designate when the Activity time defined in the properties window is executed. By default, the Activity time occurs after the Activity Logic is completed. Now, placing the <Activity Time> statement within your logic gives you control of when it actually takes place.
New Tutorial Video
The Process Simulator Tutorial has been revamped and now has several video segments for you to follow along with. Check it out online
Enhancements
New options for Tables in Output Viewer allow you to change the font and font size, bold the column headers, and center justify the columns of data.

Run a specific replication of your model by placing the "" symbol in front of your replication number defined in the Simulation Properties (e.g. "5").

Serial Numbers can be entered during installation and are displayed in the About dialog for easy access and quick reference when calling Technical Support.

Macros can be used in Percentage routes.