Perioperative Services
MedModel OR Case Cart Implementation Study
Situation
Hospitals face increasing pressure to reduce costs while continuing to provide quality care to patients. The operating room, one of the most difficult and expensive wings to manage, must run efficiently in order to avoid unnecessary costs. Hospital managers often implement case cart systems which create a centralized materials management system. Case carts carry medical supplies within an operating room. The case cart system ensures that the staff obtain the necessary materials and instruments in time for their upcoming procedures (1. Making a Case for a Case Cart System).
This study was undertaken to test the impact of implementing a case cart system on the OR process in a client's newly configured OR Suite. The impact was determined by patient delays in any stage of the OR process that was attributable to case carts.
Objectives
The client wanted a predictive analytic model which would help them with the following:
Ability to reliably predict the impact of existing and increased demands within the OR on case cart capacity.
Evaluate impact of case cart number on OR throughput.
Examine impact of customized case cart lifts as a potential bottleneck on case cart utilization.
Determine Sterile Processing Department (SPD) resource requirements and their respective function on overall case cart utilization and OR utilization/throughput.
Predict optimal utilization strategies as case carts are introduced.
Identify bottleneck areas in the OR process with the introduction of case carts.
Examine the impact of future demand over a 5-10 year window with the ability to manipulate case cart number.
Ensure smooth work flow for patients and staff as case carts are introduced.
The model was designed to answer the following key questions:
Has the medical center acquired enough carts to satisfy the volume requirements?
Are there enough Sterile Processing Department resources to support the case cart process?
Will the case carts introduce any new delays in the patient process?
How many carts need to be staged prior to morning start to ensure smooth OR Suite flow?
Results
The model outputs suggest that maximum patient throughput could increase by 38% in 6 months with the implementation of a case cart system. The following additional insights were also gained from the study.
Determined that 55 small carts and 28 large carts are needed to ensure there are no delays due to case carts.
Determined that 6 SPD FTE's are required to pack the morning case carts and 4-5 SPD FTE's are required during normal OR operation hours.
Realized that cart picking must begin as soon as possible after midnight to ensure there are enough carts ready at the Dstart of the day. To maintain a steady flow, the carts must be available and ready for the first two procedures. The modelers found that maximum case cart use time occurs early for a maximum of 1 hour.
The implementation of case carts caused no significant delays in patient flow times.
Maximum System Volume
At these higher volumes both POCU and PACU spaces become limiting factors.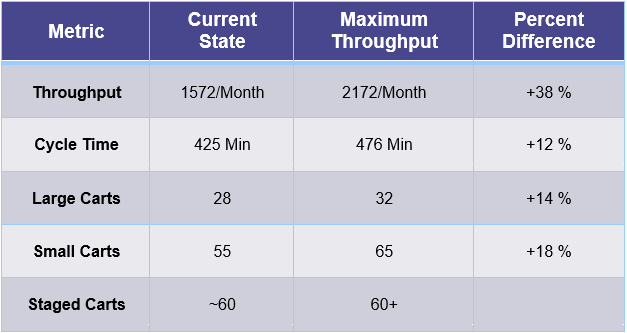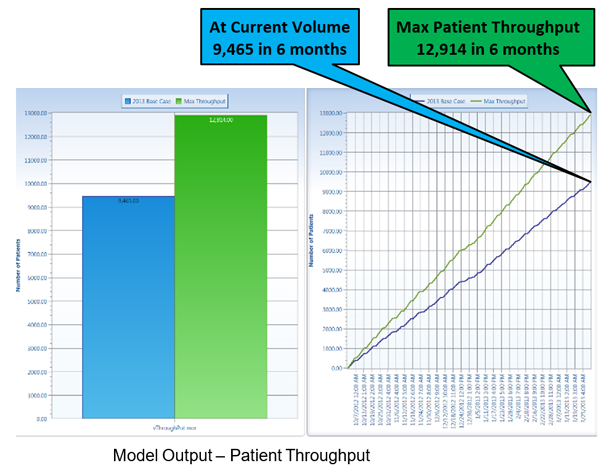 Solution Details
Defining the Process
A spreadsheet defines the "patient flow" process as it relates to patient type, location sequence, staffing utilized and task times. The spreadsheet "Staff" columns work together to schedule the first staff member required for each procedure step. Some procedure steps have the staffing flexibility of allowing an alternate position to "back up" the primary position. Times for each process step are defined in the Process spreadsheet using triangular distributions which account for work time as well as wait time.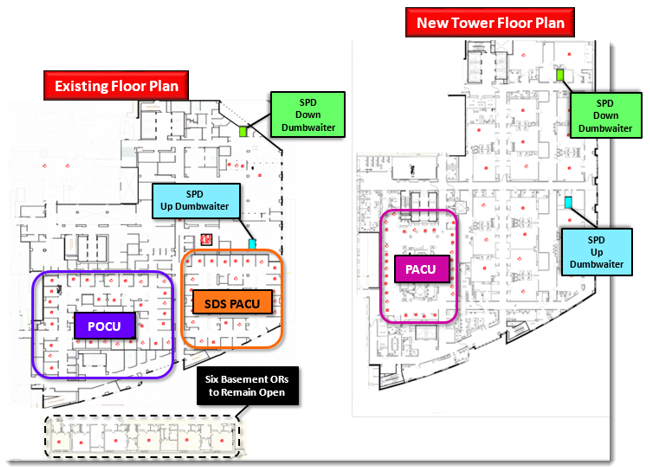 Cases Defined by Historical Data
The medical center provided historical data such as original date of surgery, the service which performed the procedure, the surgeon assigned to the case, and the OR assignment.

Block Schedule
Operating room schedules are entered onto a spreadsheet. The model solution places the previously entered cases into schedule blocks and continues through the process until the patient completes the surgical experience.

Staffing
The simulation model uses the data on a worksheet to perform scheduling tasks by staff person, primary or secondary resource group, and times that shifts begin and end.

Sterile Processing Department Input Worksheet
Data entered into the Sterile Processing Department (SPD) worksheet is matched with the procedure from the "Cases" worksheet. The model solution will produce results indicating the turnaround time on the carts, and will predict the performance of SPD.

Location Assignments
A worksheet defines the primary and secondary uses of each location in the model.

Procedure Requirements
Three triangular time distributions are used on this model (Min / Mode / Max) to represent procedure times for all clinic procedures. The first triangular is used for the procedure itself. The second triangular is used for room turnover. The third and last triangular distribution is the set-up time occurring before the next procedure is performed.

Room Restrictions
"Special Restrictions" may apply for up to five ORs. These restrictions define the rooms that may be used by each service. An entry of "999" indicates that "any" OR may be used.

Services Using Case Carts Chart
Services using carts receive a "1" in corresponding column while services not using case carts remain blank.
References:
"1. Making a Case for a Case Cart System." Making a Case for a Case Cart System - Research - Herman Miller. Herman Miller Inc., n.d. Web. 14 June 2017.
---
Predictive Analytics Improves Surgical Division Room Utilization, Avoids Potential Expansion, While Maintaining Satisfactory Patient Wait Time
Situation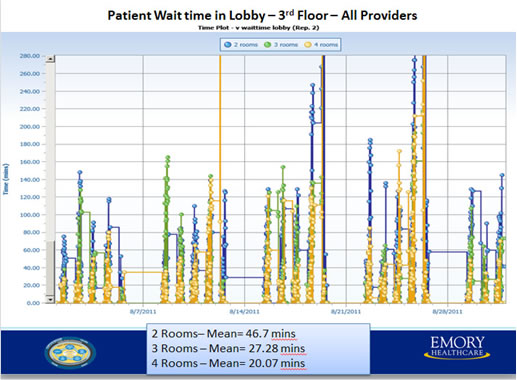 The Head of Emory Clinic Facility Operations received a request from one of Emory's surgical divisions' administrator for construction of additional exam rooms at the request of their physicians. In order to accommodate their patient volume, the physicians felt that they needed more than the current 3 or 4 rooms per physician. Before investing capital to expand the division, Facilities leadership requested an objective data driven analysis be performed.
Current policy states that while a patient is in radiology, the treatment room is held for the patient, even though there is not a live patient in the room, causing reduced room utilization. Lower utilization of rooms means more patients in the lobby, increasing wait times. The primary objective therefore was to analyze how many rooms each physician needed to best utilize available rooms while maintaining or reducing current patient wait times. Clinic Leadership needed to account for the business side of healthcare yet not compromise the patient experience.
Objectives
Identify and analyze system bottlenecks and performance metrics


Understand room utilization statistics and Radiology wait times and queues


Recommend room allocation and/or scheduling changes to improve room utilization in order to avoid facility expansion while maintaining a positive patient experience

Results
Considering different room allocation numbers for physicians, it was found that assigning 2 rooms per physician resulted in a 120 % increase in wait times
while assigning 3 rooms per physician resulted in just a 28% increase in wait time from the current 4 rooms per physician setup.
With the addition of more detail and further analysis to the model, Clinic Operations support determined room allocations needed to be adjusted by physician by hour of the day. The optimum room allocation recommendations were:
Dr. A - 4 rooms justified for majority of clinic days


Dr. B - 3 rooms for each session (AM or PM)


Dr. C - Schedule for entire day and share Pod with Dr. D (Wednesdays only)


Dr. D - 3 Rooms sufficient on Mondays and Thursdays
This enabled the surgical division to increase patient volume enough in order to demonstrate to the physicians that additional rooms were not required, while still maintaining acceptable patient satisfaction standards.
Additionally, they gained insight into the impact on patient experience from having both doctors and residents interact with patients. As an academic, or teaching hospital, this was extremely important.